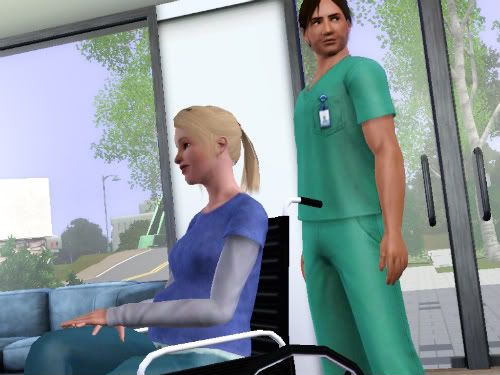 During her second pregnancy, Jane Pesce had prepared for every possible contingency. She had packed three different overnight bags, read every book the Lakeside Community Library had to offer, and written stacks of to-do lists. And when it came to give birth to her third child, she was calm and relaxed, knowing that she'd taken care of every single thing.
"We can't walk all the way down there at five in the morning," Ethan argued. "Besides, I'm sure the babysitter will show up any minute.
"It's been, like, six hours," Sophie reminded him. "No one's shown up. And no one's going to."
"Maybe..." Her brother's voice was filled with doubt, but he refused to give up hope. Though Sophie seemed perfectly calm, he was freaking out. They'd never been left alone in the house before.
"You know what this means, don't you?" Sophie's eyes sparkled mischievously. "We can do whatever we want!"
"Sophie, I don't think..." Ethan began, but she cut him off and raced over to the fridge.
"Ice cream for breakfast!" she crowed, digging in to a carton of orange sherbet.
Ethan sighed wearily and sat down on the couch, flipping through various shows and waiting for things to inevitably go wrong.
---
"... AAAGHHH!"
"Okay, that one was good!" Moe said in encouragement. "Only a few more hours to go, the doctor said. Isn't that great news, sweetie?"
"Just peachy," she grumbled. The twins had been a C-section, and she'd been knocked out on painkillers. This, on the other hand, had been six hours of grueling labor, and she was not in the best mood.
Moe took two steps back and pretended to fiddle with something near the sink.
"Okay... okay," Jane huffed. "I just need to take my mind off of it. Maybe I should call the twins. Can you hand me my phone?
Moe froze in terror. The twins.
"Thanks, honey," Jane said as he handed her the phone. She didn't notice his hands trembling or the look of panic on his face.
Ring... ring... ring....
"Huh. That's odd," she commented as she hung up the phone. "No one answered. They must be asleep still. It is rather early. Still, I wonder why Justin didn't answer."
"That might be because I never called him," Moe admitted from across the room.
"You... what?"
Her voice was calm enough, but he knew enough about pregnant women to know that the quiet ones were the most dangerous.
"I kind of.... forgot."
"You FORGOT?" Jane's voice was much louder now. "They're all alone in the house, Moe! All alone! How could you forget to call the babysitter?"
"Calm down, Jane," Moe began automatically, waving his hands defensively. "Things were happening very fast and I had to scrub out and meet you, and I meant to call him... But it's okay. I'm sure they're fine! "
"Moe, they're nightmares when we're around. Who knows what they've accomplished by now? They could have burned the house down!"
---
"That did not go exactly as planned," Sophie admitted as she gazed at the blazing inferno that had been the stove.
"I told you," Ethan muttered darkly. "I
told
you not to cook anything."
"I thought I could make grilled cheese!" she replied defensively. Ethan just glared at her as he finished extinguishing the flames. Luckily, a few buckets of water had done the trick. He had no idea where the actual fire extinguisher was.
"We can
not
tell Mom and Dad about this," Sophie declared adamantly. "I mean it. You're a bad liar."
It was true; he could barely lie about whether or not his homework was done. Somehow, his face always gave him away.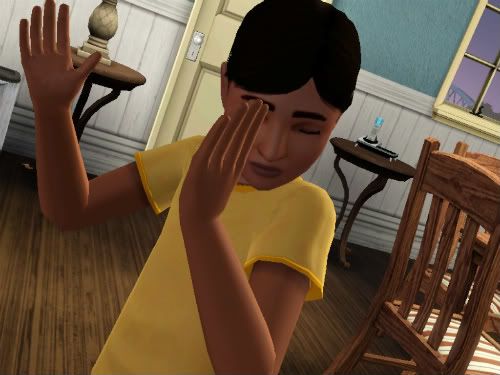 Ethan shook his head fervently. "No. No way. I am not covering for you on this," he declared. "They're bound to notice and I am
not
lying for you again!"
"Fine," Sophie huffed. "But I am
not
going to do your English anymore."
"Fine!" he yelled back as she retreated up the stairs. "I'll just start actually reading the books!"
---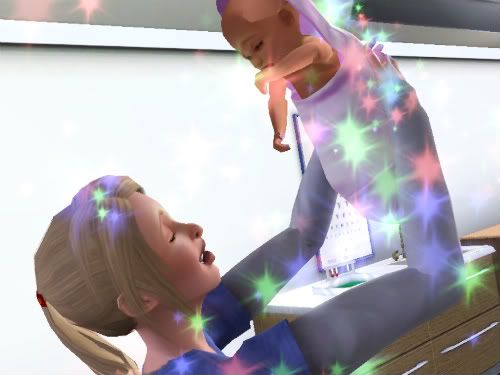 Three hours and several contractions later, Jane finally gave birth to a healthy baby girl. All of the pain and worry over the past few hours no longer mattered, she realized as she held her newborn in her arms. Her anxiety about the twins wasn't gone, but it was fainter now. They'd called the neighbors to run over and check on Sophie and Ethan, and they'd been waiting for the neighbor to call for the past ten minutes, but none of that mattered now.
"She's perfect," Jane gushed. "Just... perfect. What should we name her?"
They'd thrown around a few choices, but hadn't come to a decision. Moe was all for naming her after his mother, but Jane had been quick to point out that no child would relish being named Hortensia.
"Hmm... I'm not sure," he admitted, chuckling as the baby clutched his finger. "I still think we should name her-"
"No, we are not saddling that poor child with Hortensia." Jane was adamant on the subject.
"Well, what about your mother?" he suggested. "Isabel?"
"Isabel Pesce," Jane said thoughtfully. "I like the sound of that."
Jane couldn't help but smile as they left the hospital several hours later. With two wonderful children and a brand new one in her arms, she couldn't help but be happy. For the moment, all of her worries and anxieties over Chase and her job and the strange blonde had melted away. The world was absolutely perfect, and she wasn't about to let anything ruin it.